Distance Learning
Study with distance learning (correspondence course) and become an Associate of the Speak Up Academy of Speech and Drama (A.S.U.A.)
Once you have this distance learning qualification you'll understand how to help people become more confident with their speech.
You'll receive a manual which will teach you everything you need to know.
There are examples and questions for you to do and at the end of every section which you will complete and send of to us at the Academy. We will return the work, marked, with comments and when all of the sections have been completed you will receive your certificate.
Buy the course one module at a time!
If you don't want to pay for the course in one go why not pay for one module at a time? You will be emailed the information and questions and when you email back the answers you will receive the examiners comments along with your mark. If you've achieved the pass rate of 70% you can purchase the next module - if you haven't you can re-submit the module as many times as you like.
Once all tens modules have been passed you will receive your A.S.U.A. cerificate.
See further down the page for payment details.
Who is the course for?
This distance learning course is for any one who would like to learn more about how we speak. You might want to be able to help your own children.  It might be that you want you be able to improve your own communication skills.
There is no upper age limit but we suggest that the youngest is 16 years.
Entry Requirements
There are no particular requirements for this distance learning course but you will need a basic understanding of English.
Method of Study
This is offered by distance learning otherwise known as a correspondence course, which means you can study at a time to suit you. You will have access by email and post to a tutor if you need further help.
Duration and outline of course
Duration
There are 10 modules of work to be either emailed or sent to your tutor for marking. We suggest that the quickest you do this is one a week for a module but they can be done more quickly or more slowly if required.
Outline of Course
Articulation
Organs of Speech
Vowel Sounds
Consonant Sounds
Expressive speech
Inflection
Pausing
Power
Pace
Pitch
Resonance
Facial Expression
Gesture
Breathing
Posture
Clothing
Reading Poetry Aloud
Reading Prose Aloud
Preparing a speech
Practising a speech
Voice exercises
Course materials
You will receive a course handbook with exercises and activities and assessment questions.
If you purchase the course a module at a time the part of the manual needed for each module will be emailed to you.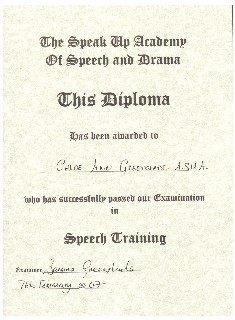 Tutor support
Your tutor will contact you by email.
Assessment method
You will be assessed on your pieces of work which you will send or email to yuor tutor. It is recommended that you do not send in the next one until you have the previous one back and marked.
A pass mark of 70% is required in all sections.
Fees
Fees are £150 for the complete course with exam fee. This fee includes the course, access to a tutor, exam questions marked with feedback and a diploma if pass mark achieved. To convert this to other currencies see here.
Fees can be paid by bank transfer or Paypal.
To pay for your distance learning course please click the paypal button below.
You do not need to have a paypal account to use this facility.
If you haven't got a paypal account just click the continue button at the bottom of the page you're taken to (after the buy now button) - if you have an account you'll need to log in.
Distance Learning Course in Full - £150.
These modules can also be purchased individually for £20 each. Please make sure you order the correct module.
Module 1 - £20 - Organs of Speech and Vowel sounds

Module 2 - £20 - Consonant Sounds
Module 3 - £20 - Expressive Speech
Module 4 - £20 - Pausing

Module 5 - £20 - Pace

Module 6 - £20 - Pitch/Power

Module 7 - £20 - Resonance/Facial Expression

Module 8 - £20 - Breathing for Speaking

Module 9 - £20 - Reading Aloud/Posture

Module 10 - £20 - General Revision