Elocution and Public Speaking
Coaching
Good speech is popular again!
We all want to feel confident when we speak.
If you think of a little old lady dressed in a Tweed suit talking rather 'posh' when you hear the words 'elocution teacher' think again!
I live in jeans, laugh a lot and have a hint of a Dorset accent when not teaching but I am passionate about my work and am incredibly serious (with a smile)  when it comes to teaching my pupils to speak clearly.
As I now live in Portugal most of my lessons are by Skype.
 If you have a specific speech or presentation you want to work on a discounted fee applies. See below. These lessons are ideal if you are a professional and your time is valuable to you.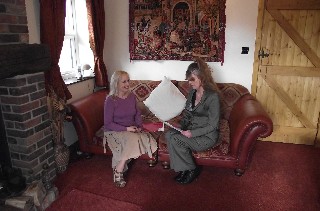 You are a "Guru" (teacher) in the true sense of the word, as you impart and share your knowledge in totality, and I'm lucky to have you as a teacher. Kavita.

I would like to thank you for helping me have confidence in my speech today. It is because of you I did much better than I have before when presenting as speech. I was a little shaky, but other than that my voice sounded fine and I pronounced every word slowly and with emphasis on those that I wanted people to hear! Elections are tomorrow. Without you, this would not have happened! You are an inspiration! Thank you so much, Joe from New York

At the end of last term my son went for head boy and delivered an amazing speech, something we never imagined he would put himself forward for. Many of the teachers complimented him and were taken aback by his confidence and presence, he buzzed with excitement for days afterwards and said he loved speaking in public. It is through all your hard work that he has this turn around in his approach to speaking and for this we will be forever grateful. Elaine

---
Remember all successful people have one thing in common: Confidence
Successful people have confidence in their ability to succeed and in their ability to communicate.
To succeed in the world today, children and adults need to be able to communicate with confidence.
Even in this age of emails and text messages, the spoken word is still the most effective way of communicating.
Speaking skills for Children
If you want your children to feel confident and speak clearly, with good clear articulation, have a look at my page for under 18's lessons. Please note that the youngest age I will teach by Skype is 5.
Lessons anywhere in the world
Using Skype and a webcam I can now give lessons where ever you live in the world. It doesn't matter if you live in Great Britain, Poland, Dubai, New York, Australia, Las Vegas, India or China just click here for more details.
---
During a session I'll teach you how to speak at the correct pace (not too fast but not too slow), to speak at the correct volume and with expression. Talking with expression doesn't mean speaking dramatically, it means using your voice to sound interesting and exciting.

Good articulation (correct consonant sounds and correct vowel sounds) and accent reduction can also be achieved with practice - but a lot of people love their accent so it's worth remembering that you can speak clearly and confidently with an accent as long as it's not too overbearing.
---
Adults 
Fees £30 for a 45 minute lesson.
You may think you can get lessons elsewhere for less money and you can but I know that in an hour I can show you how to improve and if you practice what I show you, you won't need anymore lessons,  I will save you time and money.
These lessons can help with your articulation - do you leave off the ends of your words or do all your vowels sound the same?
I can help with your breathing - do you sound as though you've run out of breath?
Do you speak very quickly and find it impossible to slow down without sounding monotonous?
I can show you how to speak clearly and how to speak with expression.
PLEASE NOTE - you will not sound 'posh' (unless you want to).
Do you have a specific speech (wedding speech or similar) or presentation that needs working on or would you just like to improve your speaking skills and feel more confident?
We can do both or either!
Perhaps you'd like to be able to read aloud more expressively to your children, grandchildren, elderly friends or visually impaired friends. Reading aloud and sharing a story is one of the most enjoyable experiences - learn to do it with ease.
Perhaps your work colleagues or friends find it difficult to understand what you say especially if you're under stress.
An added benefit of taking lessons is that your brain gets a good workout and brain stimulation is good for all of us.
Children
Is your child worrying about giving a presentation at school? Perhaps they've already given a talk at school but found it very stressful.
Maybe they're too shy to talk to their teacher?
I can help - no pressure and lots of fun
For details (times and fees etc) of children's lessons look here.
Lose your accent

Many people come to me with the same question - can you help me lose my accent? Elocution lessons can help with the reduction of an accent. Please see my lose your accent page for details of classes.

Please fill in form below for more info about elocution lessons. I will reply as soon as possible.
Please state if interested in childrens lessons, adult lessons or business sessions
Adult fees below - please check my availability before paying
Date
Name
Comments
Jan 2012
Sue
Thanks for your help and patience with our son. He now talks in assembly at school which I never would have thought possible
July 07
Sarah
Just to say thank you so much for all that you've done for our daughter - it's made such a difference to her and her confidence in herself is wonderful to see.
I'm so glad we found you in time - before our move to Dubai.Wishing you all the best and thank you again.
June 07
Julie
Hi, I wasn't sure what elocution even was but you've helped my daughter sound so much more confident, we're amazed and what's more she enjoyed every lesson. Thanks
June 07
Gary
I've always had to repeat what I say to people because they couldn't understand me, now I can speak clearly and hardly ever get asked to repeat things. Best thing I ever did!
May 07
Mrs Harvey
I asked you to teach my son because he had problems with his articulation, now he can't wait to take acting exams with you, the improvement is fantastic. Thank you Serena for all your help.
May 07
Adrian
Just had to say thanks for helping me with the speech I had to give. I didn't think I could do it, but everyone was amazed at how confident I sounded.
---