Sports Coaching Communication 
Good sports coaching communication skills are vital to the success of your business.
When you are coaching any sport, communication is essential.
Usually when we have to teach people, they are sitting still, able to concentrate fully on what the teacher is saying. The teacher is also able to sit or stand still, perhaps sitting at a desk with all of their notes or standing at a whiteboard able to reinforce ideas with written words. 
Sports coaches do not have these luxuries, they have to teach in the middle of a field or a large sports hall with no chairs or whiteboards, to students who are moving around and who are being distracted by anything and everything. If you are teaching outside the wind can blow your voice away or if in a large hall the echo can swallow up your words. These sports coaches need to have exceptional communication skills if they are to produce first class athletes.
I have written articles for various sports publications around the world including 'Tennis Pro' and the International Tennis Federation Coaching and Sport Science Review.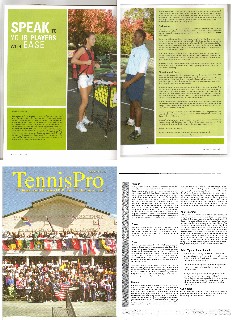 Good sports coaching communication is vital
As a mother of two daughters who have in their time attended swimming, dancing, gymnastics, yoga, violin, singing, drumming and tennis lessons – sometimes in groups, sometimes individually, I feel as though I have witnessed some of the best and worst aspects of communication between coach and student.
As a voice coach it became apparent to me that 'good' coaches (described as such, not only by me but by other parents), were the sports coaches who were able to communicate their love of their activity and their skill, be it dancing or tennis, to the student. They managed to get the best out of every student. These coaches were not always the best qualified but they had the ability to explain and to listen.
Having said that, some successful athletes were occasionally taught by some of the not so good coaches. In these cases it was the students who knew how to get the best from their training sessions. They knew what to ask the coach and when to ask it and they knew how to listen to the coach.
Who do sports coaches talk to?
Successful sports coaches communicate confidently and enthusiastically to
a)other coaches
b)to players 
c) to parents 
d) to managers
e) to school groups 
f) local businesses 
What do you, as a coach, do when you are working? You'll probably answer 'teach tennis' or 'coach basketball' etc. Obviously this is true, but if you stop and think about it, the majority of your time is spent, not playing your sport, but communicating with people. Sports coaches communicate all the time.
You don't work in an office where you see only a few work colleagues every week. You are continually meeting different people of all ages and of all abilities.
You have to speak to parents, children, school teachers, head teachers, managers, receptionists, businesses and adult learners to name a few and amongst this list are the young, old, agile, not so agile, polite people, funny people, argumentative people and easy going people.
Communicating with children involves different skills than communicating with adults. Children are not as experienced as adults at guessing what we mean and they can take things very literally.  
Articulation is the art of speaking and involves the study of the muscles we use for speech. Most cases of bad articulation are caused, not by design, but simply by laziness.  We know what we are saying so we expect other people to know what we mean. We just can't be bothered to use our mouths.  Look at the following example: suppose you are serving in tennis, the ball hits the net because you were too lazy to stretch your arm up would you then expect to win the point because you knew where you wanted the ball to go. It would be ludicrous but the principle is the same. There is no reason why people should know in advance what you are going to say, therefore you must speak clearly and use your facial muscles to produce good clear speech.
Coming very soon - an online course for sports coaches
I have taught coaches from various sports and have written articles which have been translated into three languages about the importance of good communication. I am in the process of recording an online course 'sports coaching communication' and it shold be available by the end of Feb 2018. Keep checking back or fill in my contact form and I will let you know whne it is available. It will only cost £9.99 as I realise that many young people training to be sports coaches do not earn a lot of money (my daughter, pictured below,  was in that position)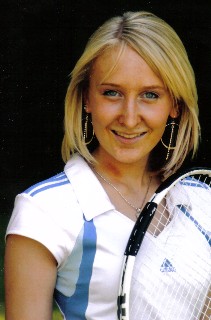 Unfortunately sports coaches do more than coach their chosen sport. At some point in your career you will have to speak to groups of people. Perhaps you've been invited to a school to give a talk or you are trying to get support – financial or otherwise – from local businesses. 
Development programmes are very keen on asking coaches (those still training and those who are already qualified but are improving their skills) to 'give a presentation'. These coaches may be given a few ideas about what to include in this presentation but no help is given on how to say it.
For some reason it is considered important for a coach to be able to give a presentation but no one offers any help or guidance. There is generally very little help when it comes to sports coachig communication.
As a coach you are there to help improve an athletes performance, if you criticize with no explanation you are helping no one. Remember though, to keep these explanations as simple as possible.
If you are watching the match and your athlete can see you, stay clam – even if they are losing. The last thing they need to see is their coach panicking.  Encourage them if it is allowed, if it's not just smile and look confident.  Show that you have complete confidence in them to turn it around, winning is all about confidence and if you look confident maybe it will rub off on them! If you look like you have given up you can't expect them to carry on fighting,
If you would like to book a private lesson to improve your sports coaching communication skills   please look at this page. These are available by Skype 7 days a week.