Elocution by Skype lessons are great but if you would like more flexibility please have a look at my online courses - if you click here you can read about the different courses - they are just $9.99  More courses are available through Udemy - just put my name - Serena Greenslade - into the search on Udemy.  You may, though, pay more for the course unless you go through my own webpage - here. The information in the online courses is the same as I would teach face to face and there are ample opportunities for you to join in and do the exercises during the courses. If you enrol on a course I am also available 365 days a year to answer you questions and help you out. A service that is unavailable for Skype pupils.
If you would prefer private one to one lessons by Skype please read the rest of this page and please contact me to check availability before you pay.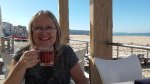 Elocution webcam lessons are available 3 days a week (Mondays, Tuesdays and Saturdays) from 6am until 7pm (GMT) so I can fit in around your busy schedule.
During these lessons I will teach you how to speak clearly and confidently from anywhere in the world. I can show you in 30 minutes how to improve your verbal communication skills so that you can feel confident when giving a presentation, meeting new clients or promoting your business.

I can help if English is your first or an additional language  
I teach children and adults
I have taught pupils in Brazil, Poland, France, Ireland, Singapore, Australia, USA, Canada, Dubai and many more
I will email you (before the lesson) the voice exercises and pieces we will use during the lesson.
PLEASE NOTE - If you book and pay for a lesson I will remain on online for the duration of the lesson and the lesson will finish at it's designated time regardless of the actual start time - if you are 15 mins late and you have booked a 30 min lesson you will only get 15 min lesson. 
If you need to reschedule the lesson I will need at least 6 hours notice.
Please fill in form below with your email address. I will then contact you to arrange the lesson. You can contact me first and then pay once it has been arranged. The time of your lesson will remain booked for up to 24 hours, if payment is not received in that time I will free the space up again.
The fees for adult elocution by skype are listed below - please bookmark this page and return to it to pay once I have confirmed that the day/time you require is available.