How to speak clearly DVD

My elocution DVD shows you how to speak clearly and with expression and is on special offer - only $15 
I get hundreds of requests from people all over the world for details of elocution lessons so I have decided to put the basics on to a DVD.

This is not a dvd showing you how to make presentations. Instead it shows you how to speak clearly so that you will find making presentations, talking to people at work or school more easy.
STOP

before you buy and consider this......
I made this DVD and I'm proud of it BUT since I did this I have created an online course which you will be able to access for the rest of your life. This course covers everything that is on the DVD and is cheaper (only £9.99). You will have the opportunity to ask me questions 7 days a week, 365 days a year. You also get immediate access to it - you don't have to wait for the postman to deliver it. More details about the course are here
I am a qualified elocution teacher/speaking consultant and I have been teaching pupils, adults and children for over 20 years. I've taught teachers, lecturers, charity workers, doctors, lawyers, scientists, business owners, sales people, receptionists, students and school children.
6 Benefits of buying the DVD
People will be able to hear you more easily because you will know how to avoid mumbling
Listeners will remember what you say with greater ease.
You will have more confidence in your voice
You will be able to slow down the speed at which you talk
You'll have the confidence to speak to your boss, your employees, teachers, salespeople etc.
You'll have the ability to make what you say sound interesting - no more boring talks
Just think what this all means,
Job interviews will be less stressful
Wedding speeches will become easy and fun to do
Sales talks will sound interesting and enthusiastic.
For children the benefits are just as great, young children will be able to talk confidently to their teacher enabling them to ask questions and learn much more quickly, even a simple thing like asking for the toilet is easier.
 Reasons to buy this DVD

You can see how wide to open your mouth with the vowel exercises.

You will learn about the five organs of speech and why we should use them.

There are exercises for the 'th' sound that so many people find difficult.

You can hear how all the exercises should sound.

I explain and show you how to make what you say sound more interesting.

I explain how certain words can be made to stand out so the listeners can understand what you say.

Suitable for any age (parents can help younger children)

Suitable for speakers of any language.

This is spoken by Serena who was born in the south of England and who speaks with an english accent.

I explain how to use exercises for resonance.

The intention is to make speaking and listening a major part of the UK school curriculum and this will give your child a head start.

It costs much less than one elocution lesson and you have the benefit of being able to watch it over and over again.
Available to buy now
This DVD is suitable for adults, teenagers and children - parents can help young children to do the voice exercises.
You will get all the information and help that any one who has a lesson with me gets.
Only $15 (plus postage) which is less than I would charge for just one lesson and remember you can watch this over and over again.
I have lived in the south of England all of my life and this DVD is spoken in English with an English accent.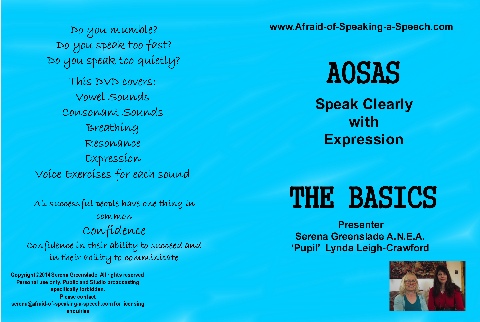 ---
Just $15 plus postage which is less than I charge for one private lesson
Please allow 28 days for delivery - although it doesn't usually take that long!
To pay by debit card please use the link below
To pay by Paypal please use this link