Please click below and follow or like my pages for special offers and help

Acting Shakespeare
<!—- ShareThis BEGIN -—> <!—- ShareThis END -—>
First of all acting Shakespeare is easy! A good Shakespearean actor is firstly a person who can act, someone who can create a character and can convince the audience that the character is real. You need to be able to show emotion and appear to the audience that this is the first time you have had these thoughts and feelings and the first time you have said these words and heard the responses. 

On top of that you need to understand a bit about Shakespeare and his plays. They were written for anyone to see and understand and were written in the language of the day. The audience at the Globe theatre often joined in by shouting and throwing things and if a certain scene was popular they would often repeat it for the audience.

Watch free lectures from my online course here 
A lot of adults immediately think they won't understand Shakespeare but it wasn't written to be complicated. In Hamlet (act 3 scene 1) Shakespeare explains what he wants an actor to do and the first thing he mentions is to 'Speake the Speech I pray you, as I pronounc'd it to you trippingly on the Tongue.' Trippingly on the tongue means at the speed you woud converse at — not too slow. I have used the First Folio spelling and punctuation so we get Shakespeare's own punctuation and you will see that some of the words start with a capital letter (upper case) so he wanted these words to stand out. In publications where first folio is not used, the editors have added punctuation that they think is correct by todays standards and it can alter the meaning. 
Don't be frightened to stand still when you are speaking, Shakespeare's words are very strong and emotive and work well on their own. You only need to understand what you are saying and his words will do all the work. There is no need for a 'drama' voice or over dramatic arms. These were everyday words spoken in an everyday way.
Some of his plays are in prose and some are poetry, if the first letter of every line is a capital it is written as poetry and this means it has a rhythm. 
Shakespeare was written to be said out loud so have fun with the words, articulate well and don't over act it. The stories are wonderful, some are funny, some are sad but they all involve emotions that we can all relate to.

Acting Shakespeare - have a look at my online course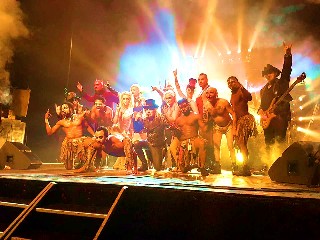 If you have ever wanted to act then this video course is for you. I have taught speech and drama  since 1994 and I've entered pupils for various drama  exams with LAMDA, New Era Academy and Victoria College and also helped pupils who have entered Trinity College exams. Pupils have appeared in TV series and performed Shakespeare with the Brownsea Open Air Theatre. One of my pupils was awarded the Sir Roger Moore Award for the highest Honours in Grade 8 (Gold Medal) Acting exam with the New Era Academy in 2010.

This course has been designed so that you can hop from one lecture to another they are not dependent upon each other, this makes improving your acting skills much easier for you as you can concentrate on the skills you need to.

This video course is full of practical advice - how to stay in character, how to use your face, how to be heard etc. The exercises give you a chance to act using all of your senses and your body.  

There are lectures towards the end about different exams, preparing for auditions, learning words and Shakespeare.
Go from Acting Shakespeare to Acting