Please click below and follow or like my pages for special offers and help

Voice for online Lecturers
<!—- ShareThis BEGIN -—> <!—- ShareThis END -—>

Improve your voice for online Lecturers
Using your voice for online lectures is a skill anyone can learn. It is now possible to teach anyone anywhere in the world and online courses and Skype are ideal  ways of doing this. We don't have to worry what time it is in a particular country. As long as our course is online it can be accessed at any time from any corner of the world.
You may be an expert in your field - you may know more than all the other experts put together but if your voice is hard to listen to and understand no one will ever know how brilliant you are. 
You may be recording your lecture in a small room on your own but try to imagine that you are speaking to your pupil face to face - be natural. Look at them (the screen) without staring at them, that will only frighten them. Don't be frightened to move, if you frown or shake your head or shrug your shoulders you will come across as a friendly natural person who is easy to listen to. Converse with them, they are buying into your personal brand as much as they are buying the course. Try to anticipate any questions they may have as you go and try to answer them in your lecture. Avoid long lectures, people today seem to be able to concentrate for much shorter periods of time, or at least they only want to concentrate for short periods of time. Everyone has a busy life and interruptions to our time are numerous. Don't speak too quickly and don't use too much jargon remember that your pupils are probably just starting out and may need simple explanations. Give your pupils time to take in what you have said so pause after new ideas and new explanations to give them a chance to think 'oh yes, I understand'. If English isn't your first language make sure that your pronunciation is correct, you want your pupils to concentrate on what you say not on how you are saying it.  You need to fully understand what you are saying so that you can make the important words stand out. 
Only $9.99 until 25th July and then $19.99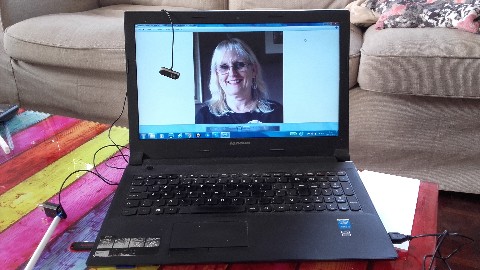 This course does NOT cover any technical aspects of recording a video - I know very little about microphones, recording software etc. If you want advice about these technical matters this course is NOT for you. Ther are plenty of other places you can learn that from. This course, will however help you to train your voice to sound interesting, even if you are teaching quite a serious and dry subject. You will learn how to make the important facts stand out, how to sound confident and clear. I will demonstrate to you that you probably speak much too quickly and much quicker than you realise. There will be opportunites during the course for you to practise what I am explaining and I will demonstrate every point during the course. Towards the end of the course I have included lectures on how to read from your notes and still look very professional, not every lecture in every instance has to be from memory, sometimes in life we need to read our notes. I will explain how to breathe to speak and how to sit and stand to enable your voice to sound better. A short course because your time is valuable.

Many people start creating online lectures in the hope of not only passing on their skills and knowledge but also to make money. Some people need to spend money on microphones and software and so have very little left for courses on voice production. 

My course is therefore only $9.99 using the link below and the information is given in a short and easy way - your time is valuable so I haven't wasted it by rambling on and on. It doesn't cover what microphone to use, or how to improve your audio or visual settings - I know nothing about that but I do know how to use my voice and I can teach you to use yours. 
I am confident that this is my best course yet, it is just me teaching you as I would anyone who has a private lesson with me. Just click on this link and it will take you to the course. Free sample lectures available.