What people say about my courses
'Recommend to all speakers of the English Language who wish to improve or correct their pronunciation. The Teacher has a great way of explaining concepts and the reasons why a pronunciation should be correctly pronounced in a certain way. I like the tutor's way of teaching,which is a traditional style,that has substance and clarity. Video and Audio quality is very good.' - Shaun, Aug 2018
'I had a mumbling issue which led me to go to a speech therapist and pay £100 per session, after losing £200 and still not having a solution, I came across this course and I had quickly found the solution to my problem. Over and above that, I got a lot more out of this course, more than anything a real enlightenment as to how I speak, how that comes across and how I can improve my speech to get better outcomes out of conversations and speeches. Thank you Serena.' Reuben, Aug 2018

What people say about me .....

You are a "Guru" (teacher) in the true sense of the word, as you impart and share your knowledge in totality, and I'm lucky to have you as a teacher. Kavita.
'....explained everything professionally well and honest she gave very good useful tips and has this unique charm and engaging voice that soothes my fears of always being afraid to speak to others because they might judge me and she was thoroughly precise and to the point and she gave quite a lot of useful longevity tips for everyday use. IMPRESSIVE 5 STARS!!'  Laurie , Aug 2018
I'm lucky enough to have had some elocution classes with Serena face-to-face some years ago in Bournemouth. Having English as a second language I used Serena's knowledge and professionalism to help me, at first, to understand that an accent can be a part of your character and this gives your speech some flavour. The important bit is to understand and learn how to speak every single word clearly, with a good pace, with high and lows which make your speech interesting. It was enlightening, and now I have found online all those wonderful classes with a genuine English lady. This is priceless. Thank you Serena! - Newton, Feb 2018
News
New DVD's available.
Speak Clearly with Expression: The Basics
this is available now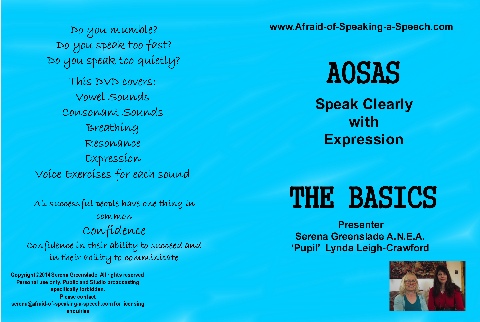 ---
Skype Lessons

45 min lessons
1 lesson £30
Book 3 lessons for only £80
Discounts if you have prepared speech/presentation you would like to work on
---
Are you anxious about speaking in public?            Overcome your worries with my ebook which is available for immediate download so you can have the solutions right now! Click on the image below for more details.........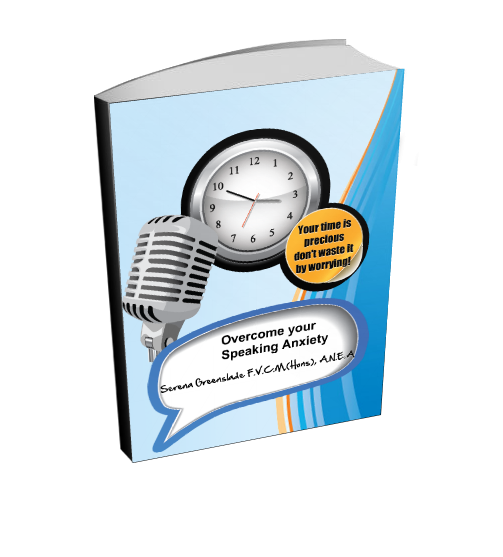 ---
Helping Children to Speak Clearly.
---
Sports Communication for Sports Coaches & Teachers
---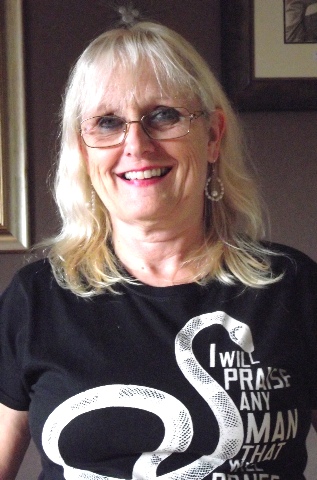 Serena Greenslade
F.V.C.M.(Hons), A.N.E.A.