I have always had an unexplained fear of using the phone. I always try to do everything online if possible. I've tried to analyse it but I have no answers as to why this is. 
Perhaps it's the lack of facial expressions and eye contact. I can't tell if the other person understands me, is annoyed with me, is pausing for ne to talk or is even listening to me.
There is no nod of the head to show they agree with me or any frown to let me know they don't understand. 
I know this happens in texts nut we get a chance to re read the messages before we send them and we can go out of our way to explain anything we think they mighht have  problem with. Phone calls are over in an instant and I always used to think of everything I should have said the moment I put the phone down!
I have slowly overcome this phobia but I still have to take a deep breath and prepare myself with pen and paper before I make anyy call or answer any phone.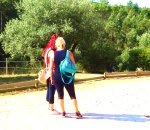 Having a conversation should always be fun. Think back to a time when you've been busy chatting to a friend and then suddenly realised you've been talking for 2 hours!
This course will show you how to feel confident when you are speaking and will give you some ideas for questions to ask or comments to make to get a conversation going or to keep a conversation going.
Now includes a section on speaking on the phone. Are you like I was? Terrified of the phone ringing incase you have to answer it or just praying and hoping that the person you need to contact has an email address or a contact page or live chat so that you don't need to use the phone?
This course is based on my knowledge as a highly qualified elocution teacher and on my own personal experiences of having what I can only call a phone phobia.
Using the phone is still not my first choice when it comes to but I do use the phone now with hardly any stress or anxiety and this course will talk you through the processes I use to achieve this.