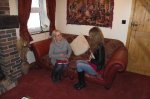 Having a conversation should always be fun. Think back to a time when you've been busy chatting to a friend and then suddenly realised you've been talking for 2 hours!
This course will show you how to feel confident when you are speaking and will give you some ideas for questions to ask or comments to make to get a conversation going or to keep a conversation going.
Now includes a section on speaking on the phone. Are you like I was? Terrified of the phone ringing incase you have to answer it or just praying and hoping that the person you need to contact has an email address or a contact page or live chat so that you don't need to use the phone?
This course is based on my knowledge as a highly qualified elocution teacher and on my own personal experiences of having what I can only call a phone phobia.
Using the phone is still not my first choice when it comes to but I do use the phone now with hardly any stress or anxiety and this course will talk you through the processes I use to achieve this.