Do not mumble - speak clearly!
<!—- ShareThis BEGIN -—> <!—- ShareThis END -—>
Being able to speak clearly is back in fashion - suddenly people are realising that we all need to be able to talk clearly.  We all want to feel confident when we talk. Although we can now communicate using emails or WhatsApp or Facebook or simply texts - the spoken word is still the most effective way of communicating and mumbling is not acceptable.
Not communicating clearly can prevent us from getting on in life. This soft skill is one of the most important skills you can master. Most of us speak too quickly and if you are guilty of this find out how to stop it on my page dedicated to this problem.

Find out more by clicking these links   Linkedin, Twitter, Facebook, Youtube.
Over 230 new students enrolled on my online courses in November, click on the links to join them.
Online courses or face to face lessons by Skype (or both)
My courses are short but they pack a punch! Ideal for people in a hurry or people (like me) who hate waffle!

If you want to improve your speaking in some way I can help you, just enrol on my Speaking Confidently video course. My video courses are like having a lesson with me - just you and me doing exercises and they are a fraction of the cost of a private lesson and you can watch it over over again forever. I currently have 11 video courses with over 6500 enrollments so I am sure there is one to suit your requirements. The courses are self paced with plenty of support and with a 30 day money back guarantee you can't go wrong.

'I had a mumbling issue which led me to go to a speech therapist and pay £100 per session, after losing £200 and still not having a solution, I came across this course and I had quickly found the solution to my problem. Thank you Serena.'

Skype lessons
If you would prefer a private Skype lesson these are available on Mondays, Tuesdays and Saturdays from 6.30 am - 7pm (GMT). The fee is £20 for a 30 minute lesson payable by Paypal or bank transfer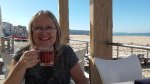 If you think of a little old lady dressed in a Tweed suit talking rather 'posh' when you hear the words 'elocution teacher' think again! I live in jeans, laugh a lot and have a hint of a Dorset accent when not teaching but I am passionate about my work and am incredibly serious (with a smile)  when it comes to teaching my clients to sound confident. Listen to me speak in my trailer above.

From being such a shy child that I didn't talk to my form teacher for almost a year, I am now a confident communicator and  a world wide author on Speech Training. I have  a unique way of teaching and I 'm  eager to help you improve your speaking skills. Read more about me here.

---
Speak clearly and do not mumble!
I can teach you how to communicate at the correct pace (not too fast but not too slow), at the correct volume and with expression. I can show you how to make the sounds in your mouth and how to pronounce the different vowel and consonant sounds. Talking with expression doesn't mean being dramatic, it means using your voice to sound interesting and exciting. If you sound expressive, people will want to listen to you.
Good articulation (saying the ends of words and correct vowel sounds) and accent reduction can also be achieved with practice - but a lot of people love their accent so it's worth remembering that you can sound clear and confident with an accent as long as you speak clearly, and that usually means not talking too fast!.
The two main reasons people mumble is that they speak too quickly and they don't open their mouths wide enough. Both of these things can be easily and quickly overcome.
Pronunciation
Good pronunciation is essential if you want to presesnt a professional image. Perhap you feel fairly confident about speaking but worry that your pronunciation may just need improving - if so I have just the course for you.

My vocal exercise video focuses on voice exercises for vowel and consonant sounds made in English. In the course I  cover 39 different sounds as well as a few oddities of the English language. I will show you how these sounds should be made and you will hear what they should sound like. In each lecture there is an opportunity for you to repeat the exercises after me.  Each sound has it's own lesson so you can jump around and pick on the sounds you need to improve.  This is helpful for anyone who mumbles or wishes to soften their accent regardless of whether English is your first language or an additional language.  I am 100% confident that there isn't another course like this anywhere on the internet and remember there is a 30 day money back guarantee on all my courses. Click the link below to see preview lectures. 

If you have found this page useful and interesting please share on social media